Jacarrie Carr was determined his event would be heard by the community, so he went out on foot through the neighborhoods of Milwaukee. He printed and handed out 500 filers to day cares, barbershops, restaurants and he even rung doorbells. Jacarrie, a 25-year-old UW-Milwaukee student, went on social media sites: Facebook, Instagram and Twitter, spreading his event.
Around 300-400 people stood outside Jacarrie's event as they waited for a pair of new kicks. Shoes weren't the only thing being given out; people received free water, haircuts, and a book bag with school supplies.
"Parents pay bills, and they shouldn't have to worry about shoes and supplies," he said.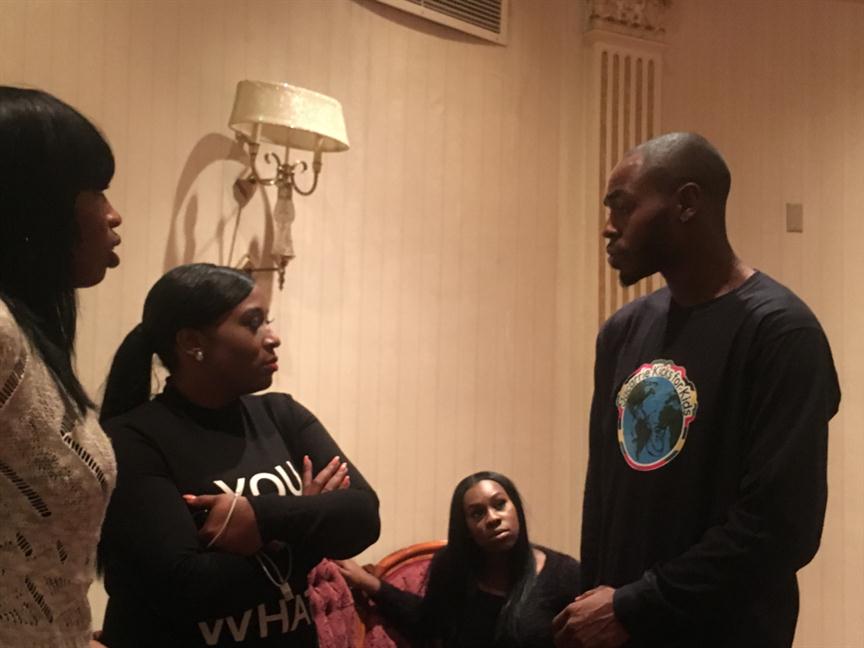 Jacarrie Carr (right). Photo by Nyesha Stone.
Two years ago, Jacarrie started his own non-profit organization Jacarrie Kicks4Kids. He collects shoes to give away to children in need. Jacarrie held his first shoe drive in November 2014; he recently had his third shoe drive in August.
Jacarrie is a UWM graduate student whose degree field is in Culture Foundations OF Education. At age 25, Jacarrie sees his organization as a way to give back, not just in Milwaukee but in other cities as well.
Over 3,000 shoes have been given away to children thanks to Jacarrie and his sponsors. He is sponsored by his mother's business Tina-N-Tots Children Academy, University of Wisconsin-Milwaukee, Non-Profit Center of Milwaukee, his father Lonzie Carr's business The Alpha and the O ground maintenance company, and that's just to name a few.
Jacarrie is the son any mother would be happy to have. Vernestine (Tina) Carr has been right by her son's side as he gives back.
"Even though we didn't have something, there are people who have less," says Jacarrie.
Jacarrie knows what these children in the hood go through because he used to be one. From third to eighth grade, he lived on 36th and Center with the zip code 53206. This zip code is known to be one of the worst zip codes in the city in terms of social ills and violence. Carr and his family moved out to Menomonee Falls his freshman year of high school at Milwaukee Lutheran.
Tina is always right next to Jacarrie ready to defend him. Lonzie and Jacarrie's two sisters, Lonzia and Kawanna Piggee, and his girlfriend Shakayla Curtis help out Jacarrie in any way they can, also. Whether it's helping move items from one location to the next or just being there for support, Jacarrie always has a helping hand to lean on.
Jacarrie eventually wants to expand to cities Chicago and Detroit, but until then he's going to focus on perfecting his organization in Milwaukee.
"I want kids to be less conscious about their appearance and focus more on their education," he said.
When Jacarrie's not so focused on his organization, he's out teaching 3rd-10th graders. He's a parallel teacher, a substitute, who has done parallel teaching at Cross Trainers Academy and other schools.
He even sent 1,000 water bottles to Flint, Michigan.
"I just want to be an outlet for the community. It's more to us (the black community) than violence, stealing and selling drugs."
When Jacarrie was six-years-old, his mother was working two jobs, and his dad had been working crazy hours, according to him. Around the age of eight, his shoe collection began to grow. He saved every penny he could to buy a new pair of kicks.
"I was a little wild, but I always maintained my grades," he said.
Although he was surrounded by negativity majority of his life, he didn't let that affect him; instead, it inspired him to do better. One of Tina's daycare kids changed Jacarrie's life. The young boy looked up to Jacarrie and wanted to play basketball just like him. He was planning on trying out for the team and came to Jacarrie for advice. Jacarrie had noticed the young boy had a hole in his shoe and he just knew he had to do something.
"If it was me, I'm not going to try out for a basketball team with some messed up shoes."
Jacarrie reached out to his Facebook friends and asked around for a pair of shoes. He received many offers, but he chose the Jordan Six's for the young boy. Ever since that day, Jacarrie knew he was meant to give back to the youth.
Although Jacarrie's main focus is shoes, he has 40 coats ready to give away to those in need. He plans on starting a coat drive one day.
Jacarrie's Kick4Kids had his most recent event on Nov 6th. He held his first annual Jacarrie Kicks4Kids Fall Fashion at the Astor Hotel.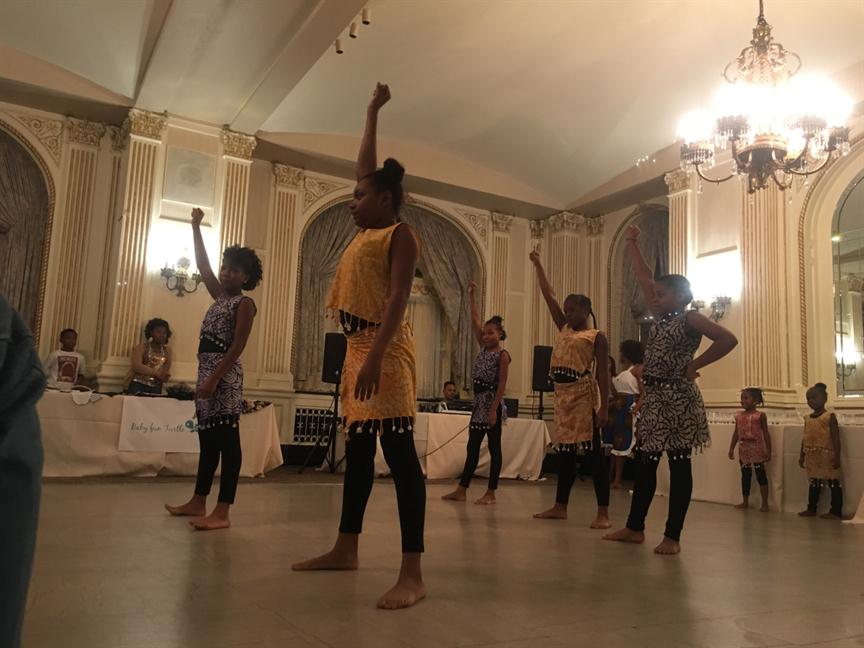 The fashion show. (Photo by Nyesha Stone)
This event wasn't a traditional fashion show. It included a step show, music performance, a comedic host and a "pop-up shop." Jacarrie showed cased ten local boutiques.
Adults walked the runway, but the children stole the show. A few lucky children got the chance to show off the boutiques clothing, while getting their picture taken from professional photographers at the event.
At the end of the event, each boutique sold their clothing to the audience. All of the proceeds go directly to Jacarrie's Kicks4Kids Toy Drive. This is another first of Jacarrie's events and he plans on doing this annually too.
"Man we exceeded the goal. Everything was simply amazing and I'm just happy. I'm really proud."
Every Saturday of December, families can come to Jacarrie's event and get one free toy per family. He prefers if parents leave their children at home. He wants the parents to take all of the credit.
Jacarrie said he'll never forget his first event, the shoe drive, when he gave a young boy a pair of kicks.
"He stayed in line all day for a new pair of KDs (Kevin Durant athletic shoes). We found his size. Man, he couldn't stop smiling."